Increasing Organic Traffic Over
320% Without Creating Content
A study showed that 78% of "local" Google searches resulted in offline purchases .
In other words, if you own a local business, capturing Google searches = more customers .
In this post, I'm going to break down the exact "local SEO" tactics we used to help  Dr Smood increase local keyword rankings and  organic traffic by over 320% in just 9 months' time.
NOTE: Dr Smood is fiercely protective of the information published online — they  did not want to publish content  on their website. All new organic traffic came from "bottom of funnel" keywords (i.e. "coffee shops near me").
Your Website is Losing Money...
Find out exactly how many customers you SHOULD be getting from organic search.
Specifically, I will be covering 8 "local SEO" tactics we used to achieve this growth:
Find keywords + map
intent to pages
Finding keywords  is straightforward – there's already plenty of info on the web about this.
The challenge is trying to identify localized keywords when:
You have multiple locations / stores
You have multiple keywords with different intent
For Dr Smood, we had to tackle both .
Not only does Dr Smood have 9 locations, but its model is a hybrid – it is a coffee shop, juice bar and organic cafe.
Each of these keywords (i.e. "location + coffee shop") trigger a different set of results in Google.
This tells us that Google sees each keyword as completely different. It's challenging to rank the same page for multiple terms that Google sees as unrelated.
But each of these keywords was vital to Dr Smood's growth. The goal was to maximize organic foot print by ranking for all of them.
We had to come up with a strategy that would allow Dr Mood to rank for multiple keywords in multiple cities . We decided to go this route:
Build out a /cafes/ section on the
website to target largest keywords.
Before working with us, the website was relying on the homepage to target all keywords, across all locations.
If you want to rank a website for multiple locations, you need dedicated landing pages targeting each local market.
We decided to set up "cafe" pages that would target the broad, high search volume keywords (i.e. "location" + cafe). For example:
drsmood.com/cafes – a list of each location that HTML links to each subfolder page. Also, a map embed from the verified GMB listing.
drsmood.com/cafes/location – a dedicated landing page for each physical location (i.e. drsmood.com/cafes/brickell-fl/). These pages would contain unique descriptions of that store, opening hours, map embeds, reviews and photos.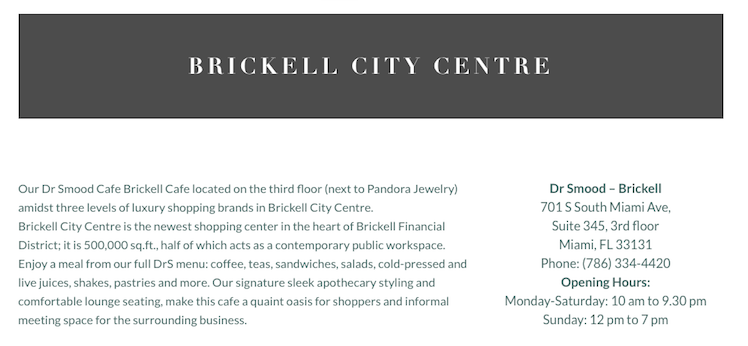 Click to view full location page
Ranking these pages for high volume keywords allowed us to dictate the band messaging, conversation and discovery process for potential customers.
Use "parasite" sites to rank for secondary keywords
I wrote an article on Moz a few years ago that talked about not "forcing" your website into places it doesn't belong.
Google is looking heavily at "searcher intent" and matching result types based on that.
For example, if you're looking for "coffee shops in Miami", Google will tell you the "types" of content it wants to rank (based on user experience signals).
My point is, sometimes your website isn't the best result type . Instead of forcing your site into a SERP it doesn't belong on, you can leverage the properties Google wants to rank for these keywords to your advantage.
In Dr Smood's case, our research turned up a few properties that ranked well across the board (for our target keywords):
Yelp pages
Articles on local media outlets
To summarize our plan of attack:
Build location pages on the website to capture "main" keywords
Optimize each store's Yelp page to capture "secondary" keywords
Pitch local media outlets for inclusion for "best" keywords (i.e. "best coffee shops in Miami")
Correct "on page" elements
As mentioned, we created "cafe" pages for each physical location using a subfolder architecture.
I love building pages from scratch because it lets us dictate both the UX and SEO aspects of the page.
Note: the design of the website has since changed – a few elements were removed.
We focused our efforts on a few key areas:
Mobile usability
When people are searching for "cafes", they are generally on the go, in the moment. These pages had to render fast and clean on mobile devices.
Page titles
Set up a standard naming convention:
Location Main Keyword – Secondary Keywords – Brand
For example:
Wynwood Organic Cafe – Juice, Food & Coffee Shop – Dr Smood
We then used citation page titles to capture other keyword searches.
Yelp:
Dr Smood – Wynwood Juice Bar (since changed)
Google My Business:
Dr Smood – Wynwood Coffee Shop (since changed)
Map embed
We want to associate our website with a verified GMB location.
A great way to do so is building a section for the Google Maps embed into your landing page's design.
Reviews
In order to get review stars to pull through in the SERPs, there needs to be reviews hardcoded into your page.
We developed each location-based landing page to pull through Google My Business reviews.
The result was a HUGE boost in SERP CTR.
Store images
Adding images to store landing pages helps improve the overall user experience. Personally, I love to hang out, have meetings and work out of cafes. As a potential customer, I want to see what the inside of cafe looks like before visiting.
On top of that, it gives you an SEO boost from people using Google Images.
Make sure to name all images with proper titles and ALT text.
Store info
It's important to add store info to each location page – it's one of the main things a potential customer looks for on a page.
External links
Search engines crawl from page to page through links – these links help to build an association and "equity" between linked pages.
We like to add external links to create an association between online properties.
Google My Business listing
Maps / directions to location
Social media profiles (link to location specific ones, if possible)
Other important citations
This helps clean up your branded search, specifically if you have multiple locations.
Unique content
Pages with unique text rank better in Google. We like to add 250 – 400 words of hyper specific information about each location.
Things like:
Nearby landmarks
Cross streets
Specific location information
Add proper "Structured Data" (Schema) to location pages
Structured Data (some call it Schema or microdata) helps search engines understand your page's content.
In Google's Intro to Structured Data, they note:
You can help Google Search understand the meaning of a page by including structured data in your code. Structured data is a standardized format for providing information about a page and classifying the page content.
To implement the proper local SEO schema, we did the following:
Build, verify and optimize "Google My Business" pages
"Maps pack" rankings are tied to your Google My Business listing, not [necessarily] your website.
Since the Maps Pack dominates clicks , it's important we pay special attention to optimizing our listings.
Get verified
You cannot rank in the local pack without being verified by Google.
Fill out info section completely
Google keeps expanding this section for what you can add.
Obviously, make sure your hours and contact information are correct. More importantly, if you have multiple locations, make sure to deep link to the location specific landing page on your site.
Again, cross property association is key.
Leverage keywords in title
As mentioned above, we like to use Google My Business to target the main keyword.
You're able to edit the title of your page to include keywords. You have to be careful not to spam your title, or your'll get dinged by Google.
Bad title:
Keyword + Brand
Wynwood Coffee Shop Dr Smood
Good title:
Brand – Keyword
Dr Smood – Wynwood Coffee Shop
It's subtle, but it works.
Solicit reviews
Reviews are a huge ranking factor within local search – they can be challenging to get.
We used 2 methods:
"Locked" wifi to solicit reviews + social growth
To unlock the wifi (in stores) we implemented a prompt to leave a review (or follow their Instagram account).
Used Net Promoter Score (NPS) email sequence to secure 5 star reviews
We setup an email campaign to customers asking them to rate their satisfaction with their experience on a scale of 1 to 10. Anyone who responded with a 10, we set an automated follow up asking for a review.
The video below walks you through how to optimize GMB listings to rank in multiple local markets.
Find, build and clean up citation pages
A "local citation" is an online mention of the name, address and phone number (AKA "NAP") for your business. Essentially, it's the online version of a phone book.
These citations help with local SEO because they show Google you're a legitimate business that wants to be found .
We have a 3 step process to manage citations:
Clean up existing citations
Find new opportunities
Create new citations
1. Cleaning Existing Citations
We want to make sure our website's NAP is properly optimized across the web. If you've moved physical locations or changed phone numbers, you should audit + cleanup incorrect information.
We look at citations in 2 buckets:
Citations for SEO purposes . These help boost rankings (i.e. includes a link), but serve no value to your customers as these sites are NOT heavily used ( VIEW EXAMPLE ).
Citations for customer purposes . Sites that customers are using to find local businesses – Yelp, Avvo, Clutch, etc.
When it comes to cleaning up citations for SEO purposes, we outsource using these businesses:
Citations for customer purposes we clean up internally. Not only do potential customers actively search these sites, but we can also rank them in organic search for valuable keywords (mentioned above).

These pages are too important to outsource – we use a Google Sheets file to organize each page / location.
For the customer-focused citations, we optimize them for "on page" SEO, just like you would for a website's page.
For example, we were targeting Dr Smood's Yelp pages to rank for "juice" keywords.
Your primary Yelp "category" pulls through into the SERPs.
Make sure to select the category based on the keywords you want to rank for.
Other items to optimize:
Description – Add unique text here for each location.
Images – Unique images to that location (you can use the same from Google).
Links – ALWAYS include a link to your site. If you have multiple locations, make sure to link to that location's landing page.
2. Finding New Citations
After cleaning up existing ones, we want to look for new opportunities.
We want to focus on local, relevant websites – it's best to find them manually. You can do this 2 ways:
1. Using search operators.
If you're on a budget, you can find quality local opportunities by using Google.
2. Using Whitespark.
If you have a budget, Whitespark has a quality tool that does the legwork for you.
This generates a full list of citations your business should be on.
3. Building The New Citations
The final step is to take your list of sites and manually create a profile on each. This is a manual process, but I recommend offshoring it.
GRAB OUR CITATION TRACKING TEMPLATE
Launch a local PR campaign
We wanted to use authority publications to achieve 2 goals:
To rank as "parasite" pages for secondary keywords (mentioned above)
To build high quality links to improve SEO rankings
Using these goals as a guide, we targeted 2 types of placements:
Type 1
"Best of" articles
(to rank for "secondary" keywords)
"Best" keywords generally return "roundup" style posts on local authority sites – these articles present a perfect opportunity to gain additional organic exposure.
It's a simple process to secure coverage in these articles:
Use search operators to find "best of" articles relevant to restaurants, cafes, juice bars and coffee shops in Miami.
Find the author and recording their contact info.
Repeat until you have a large list of opportunities.
Send a personalized email pitch to each prospect.
Hey [NAME],

 

My name is [YOUR NAME]. Our agency manages the marketing for [CLIENT].

 

We've got a new menu that we think would be a great fit for your column. We'd love to host you in our Wynwood location to sample the tasting menu.

 

If interested, please let me know a time that works for you.

 
Secure the bag.
Type 2
New store announcements
(for links + exposure)
Again, nothing special here – just find the opportunities and send them a nice email.
Local news outlets are more than happy to cover new store launches.
Local "influencer" luncheons
People love taking pictures of food and sharing it on Instagram.
We saw an opportunity to bring local "influencers" into the stores and give them an experience worth sharing.
The plan:
Find local influencers with a large, active followings in the health, fitness, foodie and lifestyle space
Contact each influencer and invite them in for a curated tasting of everything on the menu
Take professional pictures of the event and send to them after to post on Instagram
Offer additional discounts to those willing to write a blog post and deep link to the store location pages on the Dr Smood website
The execution:
We built a list of relevant keywords and manually prospected Instagram to find each influencer.
This is a manual process, but it's required to find the right influencers. Outreach is a numbers game, you have to find a lot of opportunities to get results (we found over 2,000 and about 100 agreed to our offer).
We recorded each influencer in a Google Sheets file for the client to approve.
Each influencer received a personal email and invitation to a "tasting event" at a store location of their choice.
We saw a tremendous results from the campaign :
Over 150 unique posts on Instagram (including stories)
Over 500,000 engagements on the Instagram posts
Over 1,000 new followers to the client's Instagram account
22 links from local blogs
Invaluable brand exposure and reach
Facebook ad campaigns
There's no official correlation between social media and SEO rankings.
However, SEO aside, your business needs a presence on social media.

															Facebook (and Instagram) ads present a massive opportunity for local businesses to generate both awareness and foot traffic.
														
These ad offerings allow us to market to people who have visited your website and are in walking distance to one of your locations.
Instead of explaining it all here, I am just going to give you the pitch deck we put together for them.
In a nutshell, we tried to use Facebook and Instagram ads like mobile TV commercials. You were ONLY served an ad if:
You fell into a certain demographic (ages 25 – 40)
You met a certain interest (yoga, health, wellness, etc.)
You were within .5 miles of a store location (to drive impulse visits)
We mixed things up with different ad types (Instagram stories, Canvas) and focused mainly on video.
The results were incredible. While Facebook  tracks store visits from seen ads , the tech isn't great.
Instead we told cashier's to ask customers a few questions during checkout:
Is this your first time here?
How did you hear about us?
We saw a consistent increase in first time customers citing Facebook videos as the discovery channel.
On top of that, we saw a steady increase in branded search during the heavy advertising periods.
I am a huge believer in branded search as a ranking factor – read more about that here .
Wrapping it up
Let our agency manage your marketing. Learn more .
We build tools to help marketers be more productive. View tools .
Get trained by our marketing experts. View trainings .